Thanks be to Tanya for places. A spifftific set of maps will probably be linked or loaded at some point.
Old Silent Hill and Central Silent Hill
The oldest section of Silent Hill suffers from fire damage. Its connected to the more urban section, Central Silent Hill, via a bring over the river cutting the two off. The lakeside resort is just southwest of Old Silent Hill.
~*~
Finney Street: This street is named after the author, Jack Finney. You can find Convenience Store 8, Crabs seafood shop, Metropol Movie Theatre, a Pharmacy, El Encanto hotel, Fish n' Fries, LiquorFood store, and Virginia's Bodas: Servicio Completo de Bodas' (complete wedding services)
Matheson Street: This street is named after the author, Richard Matheson. You can find Ghoul Bar, two shops, Horned Moon Dance, a cafe, Julio's Auto Parts, and Ichiron's Drugs.
Bloch Street: This street is named after the author, Robert Bloch. You can find Roger's Pastry Shop (which sells fruit and Italian Ices), Cut-Rite Chainsaws, Shoe Repair and Hat renovators - Luggage Repair, Souvenirs, Lighting Co., Balkan Church, and a Shell Gas Station.
Bradbury Street: This street is named after the author Ray Bradbury. You can find Mark Twain Books and Gifts, a market, Top Sales discount store, Silver Goods, and Sundries shop.
Midwich street: This street is named after the book "The Midwich Cuckoos" by John Wyndham. Silent Hill's elementary students attend Midwich Elementary School, a three story building down the street.
Levin Street: This street is named after author Ira Levin. This is a residential street .
Bachman Street: This street is named after author Richard Bachman, one of Stephen King's pen names. You can find Cafe 5 to 2, a Queen Burger, Blue Belle, Boston Market, Bett's Big Service & Grill (its a resturant with a gas station right outside a campground area), the campgrounds, Elks Bingo, Motel 40 Rest Stop, It'll Do Club Dancing, and Haerbey Inn.
Ellroy Street: This street is named after author James Ellroy.
Craig Street: Annie's Bar (BuzzFizz and Miner beer available, along with pool tables), Indian Runner (Indian Crafts and Leather Goods), Norman's Motel
Weaver Street: AEC Burger, South Park (has a beautiful water fountain and boat rides), docks.
Sagan Street: Bonto, Buffalo Chief, Casts, Market A, No. 1 Foto, Nolterni, Theater 3, The Car, Wind, Contempo Casuals, Discount Variety, FANS (casual clothing), Galaxy (electronics), ESPACE Loggia,
Koontz Street: Alchemilla Hospital, Top Sales, Thirty Records, Cafe Sun, Resaurant Dai Dai (Japanese for "Big Big"), Green Pharmacy, Sue's Nail Nail Nail, Post Office and Currency Exchange
Crichton Street: Wild & Cool, Hobby America, Just Cats, Konami Burger, Bruce Lee (or "Lee Small Dragon") Chinese Art Goods
Wilson Street: Andy's Book Store, Downtown Fashion Center, Flowers On Lexington, Hot Dog, A Moveable Feast, Salmon (seafood restaurant), Sky Toys, Son Corp. 386, Tramps (bar)
Simmons Street: FAA, Antiques Old Town, Andy Shop, Grandmaster Bookstore, Marigold, Mushnick's Florist, Moondance (disco club), Romantic Journey (Bookstore), Steak & Brew Burger ("OPEN for your PLEASURE"), Tea Room, The Mirage, VIVRE, VOWO, Silent Hill Town Center [Stores: COSPA (costumes), Giga Store (music), Just Cats (cat supplies), Hector Laxe, Kazanian (crystals jewlery), The Museum Watch (watch store), Mellow Gates (guns)], Green Lion Antique Shop
Lakeside: Resort Area
This section below Old Silent Hill, right outside the Sandford St. in the forested area along side the lake.
Lake View Hotel: Three story hotel. It burned down several years ago, leaving only its charred remains still standing. Has a west and east garage.
Lighthouse: Reachable only by a long walkway in front of the Lake View Hotel, a lighthouse sits shines its bright beacon over the lake.
Toluca Lake: The lake is Silent Hill's main tourist attraction. It is well know for its hauntings. Two lie under the water itself. The first happened in the 1880's when a plague struck the town. Seventy-three of its victims remains lie beneath the lakes surface. The second happened in 1918, the Little Baroness, a ship filled with tourists, sunk to the bottom of the lake. Its case was never solved.
Toluca Island: This is a small island reachable only by boat. A lone church resides there over looking the water. It is said that dark rituals were performed there.
Lakeside Amusement Park: A large amusement park located on West Stanford Street, right off of Toluca Lake. Its mascots are Robbie Rabbit, Kathy Kitty, Dawn Duck and Huey Horse. Its rides include: Mountain Coaster (a roller coaster), Borley Haunted Mansion (a haunted house), Swing Rocket (spinning rocket ride), Star Travel, Tea Cup (a spinning teacup ride), Machen Travel (a funhouse where you ride through fairytales), Sky Flower, and Happy Carousel (a 13 horse carousel). Its shops are: Bar & Grill Lakeside, Dina's Tea Party, Candy Pot, Sweet Factory, Imports Toyshop, and Magic Icecream House. Also it has a stage where special shows were held and a Fortune House where you can get your fortune read.
Church of the Order: Reachable by the Houses elevator and an entrance in the Amusement park.
West Sandford Street: Thing and Stuff, Bowling
South Silent Hill
From Old Silent Hill, one can reach the section across the lake by taking Sandford St. around the lake and then getting on Nathan Ave. The area around Lindsey Street once was a swamp. "The ___ers of land surrounding this monument was originally swamp, but was later filled in. Fr____ing ago, t__________s nicknamed Blood Swamp because the _____ers poured the water used to wash the ex________ols in here. Perhaps it's fo____ that many pe______m to have s__ __________n the area."
If you enter from the Observation Deck:
Observation Deck: Overlooks the lake. it has a unisex restroom and parking lot.
Tunnel: If your entering the Town from the Observation Deck (73 County Rd) you pass through a Tunnel under the area's many hills. You will also see a red sign stating: Paleville National Park 10 Miles, and a green sign stating: Paleville 1.0 Miles, Old Silent Hill 5.0 Miles, and Brahms 26.5 Miles.
Well: Heading down the steps of the Observation Deck, you walk down a winding trail leading towards the lake's beach. Before you reach the cemetery, you come upon a brick gazebo and well.
Toluca Lake Cemetery: Following the trail away from the Well, you reach the cemetery. It is surrounded by a stone wall with an iron fence and gate. It lines the edge a sculpted section of the lake.
Toluca Lake Cemetery Chapel: A small stone chapel sits on the back of the cemetery grounds.
Silent Hill Ranch: Following the path exiting the cemetery, you pass the town's ranch. Not only does it have its own barn and silo, but even a greenhouse.
Bus Stop: As you exit the path by the Ranch, you come upon the bus stop that sits underneath 73 County rd and beside the creek. It takes off on Wiltse Rd.
The Roadrunner: just off the road where the bus takes off, is "The Roadrunner", farm that pays homage to the horse drawn carriage.
Sanders Street: Right: Flower Shop, Warehouse, Happy Burger. Left: Phoenix Body Parking, Shop, Fashion Envelops, Speed Fuel Corp., Silent Hill Post Office
Lindsey Street: Right: Phoenix Body (
#850
), Shop, CD Exchange (Cd and Laser Disk, New and Used), Auto Shop, HAY (
#850
), Solid Truck Repair (
#850
), Warehouse (
#850
), Solid Coup, Ridgeview Medical Clinic. Left: Warehouse, Genuine Optical, Gonzales' Mexican Restaurant, Victorian Homes/Apartments/Townhouses, Cafe Texan, Shop, Swamp Memorial, Victorian Homes/Apartments/Townhouses
Vachss Road: Warehouses, Nathan Ave. Underpass
Martin Street: (Alleyway for Lindsey St. Homes) Left: Fenced in Basketball Court, Back of Apartments, House Garages, Factory. Right: Back of Apartments, House Garages
Katz Street: Left: Apartments, Shop, Shop, Shop, Cafe Mist, Shop, Shop, Storage. Right: Shop, Apartments, Accurate Fabrication and Welding, T's Italian Restaurant, Fancy Gifts, Big Jay's, Wood Side Apartments.
Munson Street: Blue Creek Apartments, Jack's Inn
Neely Street: Left: Shop, Lakeside Japanese/Chinese(?) Restaurant, Gozo's Sushi, Chiropractor and Sports Injury Center, The Dance Company, Silent Hill Fresh Meats, Shop, Silent Hill Tavern, Giga Computer, World Clock Store, Grand Market, Lucky Jade Restaurant, Shop, Silent Hill Travel Service, Quiet Cocktails, Fashion Boutique, Dry Cleaners, Pet Center, Shop. Right: Diner, Kent Shoes, Neely's Bar, Baby and Kids Super Store (Baby Goods, Discount Prices, Baby Gift Registry), Rose Clothing, Auto Parts, Tiny Shop, American Cafe and Caterer, Big Jay's, I Love Groovy Music, Impressive, Baby's Closet, Silent Jewelers, Shop, Neighborhood Cafe
Saul Street: Left: Shop, Lakeside Diner, Commercial Land lots. Right: Commercial Land lots.
Harris Street: Accurate Fabrication and Welding
Nathan Ave: Boat Launch, Silent Hill Historical Society, Rosewater Park, Silent Hill Savings Bank, St. Stella Church, South Silent Hill Fire Station
Carroll Street: Pete's Bowl-O-Rama, Texxon Gas, Heaven's Night, Brookhaven Hospital
Toluca Prison: Originally Toluca Prison Camp; housed Civil War POWs and soon-to-be-executed soldiers. Was later closed and the Silent Hill Historical Society was built atop it.
Baldwin Mansion: The home to Ernest Baldwin and his daughter Amy. It is also known as the Haunted Mansion by the locals.
----------
At present a lot of the action has taken place in Alchemilla hospital (btwn
Crichton and Koontz), the Happy Burger (on Carroll street), Pete's Bowl-o-Rama and Heaven's Night (just off Nathan Avenue), the 'other' church (behind and below Lakeside Amusement park), the Baldwin mansion, and an undetermined location in one of the sidewalk cracks, which has been staked out by the alien Cs Xev & Chiana. At present the Black Pearl is moored along the lakeside, behind the garages on East Sanford.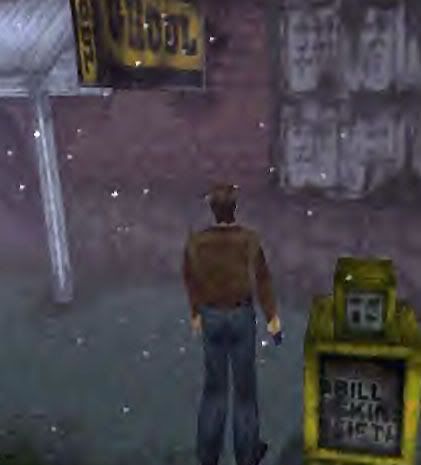 Ghoul club on Matherson street, a swinging survivors' pad.
Also see the
detailed map
page for an overview of how the streets are laid out.